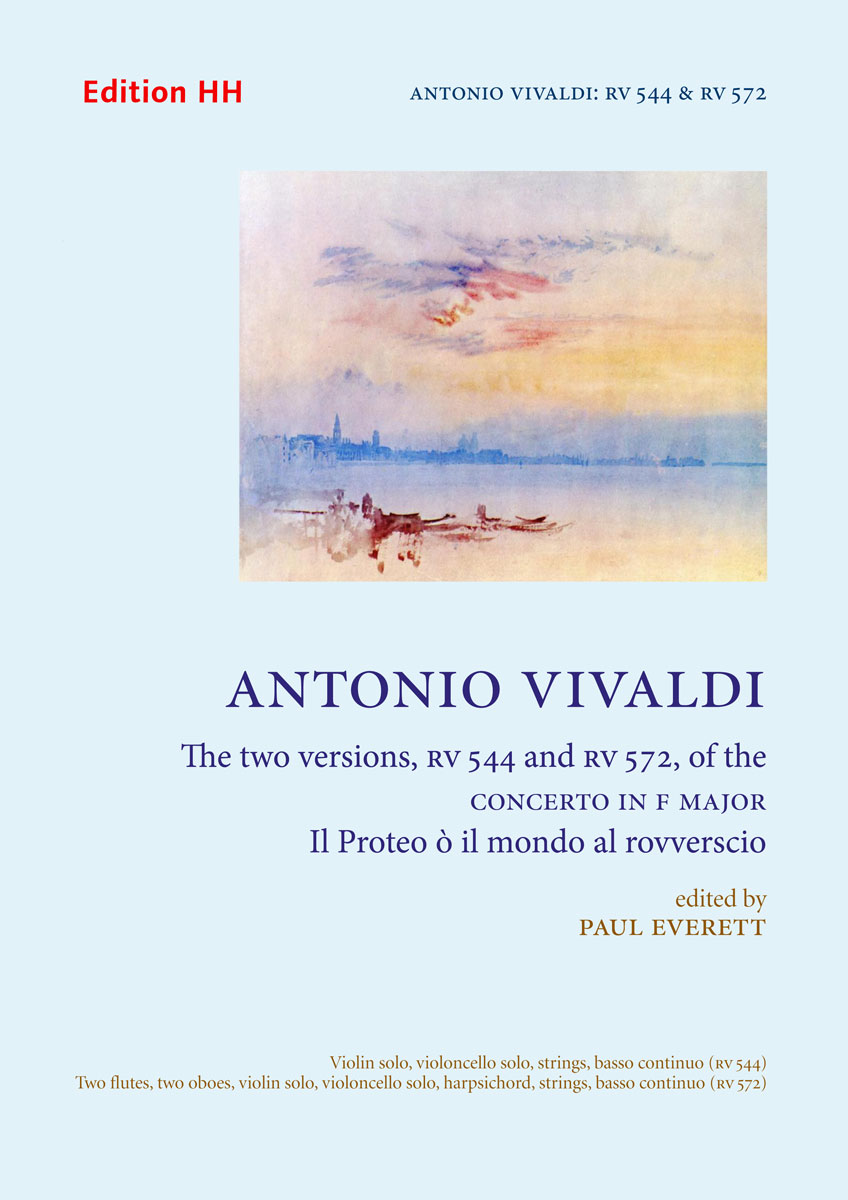 Antonio Vivaldi The two versions, RV544 and RV572, of the Concerto in F Major Il Proteo ò il mondo al rovverscio
ed. PAUL EVERETT
Edition HH hh.056.fsc, Launton, 2013 (pbk, £35)
ISMN 979 0 708024 90 3
www.editionhh.co.uk

The concerto Il Proteo ò il mondo al rovverscio (which loosely translates as 'Proteus, or The World turned upside-down') by Vivaldi (1678-1741) exists in two versions. The earlier version, RV544, is scored for solo violin, solo cello, strings and continuo, while the later version, RV572, is scored for 2 flutes, 2 oboes, solo violin, solo cello, harpsichord, strings and continuo. However, both date from the 1720s and the editor, Paul Everett, suggests that little time elapsed between the two versions, with the more lavishly orchestrated version being required for a special occasion.

While Vivaldi was Venice-born and bred, and closely associated with Ospedale della Pietà orphanage, writing numerous concertos for the girls at the Ospedale to play, Everett suggests that concerto RV572 might have been adapted from RV544, composed for Cardinal Ottoboni's orchestra in Rome, where Vivaldi also had connections. Ottoboni's orchestra was known to have the additional flutes and oboe players required for this particular concerto. There are interesting and detailed footnotes in the preface detailing how Everett reached this conclusion.

The first version has never before been published in a modern edition, and the only previous edition (1952) of the second was incomplete. This present edition features a comprehensive introduction in both English and German, setting the works in their historical context. There is also a thorough examination of the extant sources, as well as an account of the transformation of concerto RV544 into RV572. The lengthy preface finishes with a section entitled 'editorial policy and matters of performance'.

Everett presents each concerto with clear editorial markings and insertions, easily identified; all harpsichord figuring is editorial. There are extremely detailed textual notes for each concerto, clearly indicated by movement and bar number, explaining editorial changes. Alongside explanations such as the use of a particular clef, Everett also offers historical and contextual insights, such as why a solo cellist would have been expected to play with the ripieno section in certain places.

The score is spiral bound for ease of turning, and covered in thicker card, cleverly enclosing the spiral binding with a small Turner watercolour of Venice, looking east from the Giudecca, thus making it both durable and attractive. Musically, the concerto in both its versions looks to be a wonderfully enticing piece. The instrumental parts are available as a digital PDF download.

We are grateful to theThe Consort for permission to reproduce this review.