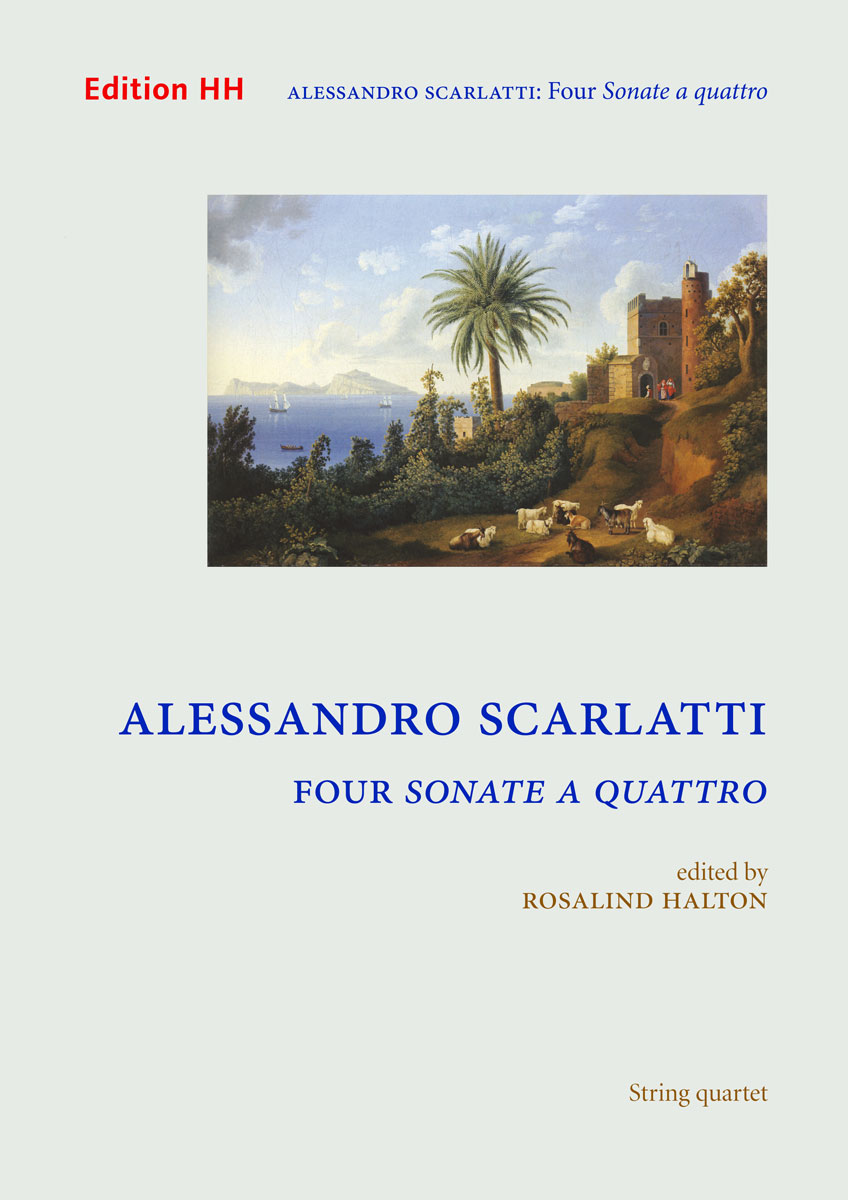 Alessandro Scarlatti Four Sonate a Quattro
ed. ROSALIND HALTON
Edition HH, hh361.fsp, Launton, 2014 (pbk, £28)
ISMN 979 0 708092 09 4
www.editionhh.co.uk

This set of pieces in many ways epitomises the ethos and approach of Edition HH: practical applications of modern scholarship, unearthing rare, neglected or forgotten gems of genuine interest and importance to scholars and musicians, which are of benefit to the wider public. They enrich the repertoire for skilled amateurs and professionals alike.

The four sonatas by Alessandro Scarlatti (1660-1725) form a curious but highly appealing set of works which deserve to be better known, particularly among string players. They were referred to collectively at the beginning of the 20th century by Edward J Dent as the 'earliest string quartets', conceived senza cembalo, as borne out by the title page of each work. The editor, Rosalind Halton, has a close affinity with these works, having researched and written about, together with Michael Talbot, their subsequent re-scored versions. Although the cello part for sonatas 1-3 includes some bass figures, Halton is clear that 'senza continuo is certainly a viable option for performance' (Introduction, p.vi).

The editorial approach is unambiguous and logical, including maintaining the key signatures as they appear in the primary source (such as 2 flats for F and C minor). All four pieces are in minor keys (F, C, G and D). We are treated to the full extent of Scarlatti's polyphonic style, especially in the fugal and slow movements. The complexity and sophistication of the musical language is quite striking in the irregular phrasing, for example, and the movements in triple time; there are numerous occasions throughout when the second violin part is pitched above the first.

The opening Grave of Sonata no.1 displays a typical level of contrapuntal chromaticism; it leads into a rhythmically vital fugue based on a simple but effective subject. The highly imitative but lyrical 3/2 Largo is a thing of beauty (I was surprised to find that, while playing it, my mind turned to the cascading scales of Arvo Pärt's Cantus in Memoriam Benjamin Britten). A texturally straightforward but vibrant Alemanda brings the piece to a close. The following three pieces in the set have similar but varied constituent elements, and the set has a genuine coherence as a whole. In fact, the opening fugal movements of numbers 2 and 3 are linked thematically.

The edition also includes five pages of very well reproduced facsimiles, which are a worthwhile and attractive addition. As usual for Edition HH, there is a full set of textual notes at the end of the score, including descriptions of the seven consulted sources and their content in relation to all four pieces. I recently found myself in the fortunate position of being able to try out these pieces with some of my students, who found them very rewarding; they are certainly manageable by fairly confident amateurs.

We are grateful to the editor of The Consort for permission to reproduce this review.